Lancashire Business Partners With Government Initiative
Cotton Court Business Centre join Northern Powerhouse to boost local economy
Preston based Cotton Court Business Centre have been announced as partners in the Northern Powerhouse programme, with the aim of improving Lancashire's economy.
Building a Northern Powerhouse is about boosting the Northern economy by investing in skills, innovation, transport and culture, as well as devolving significant powers and budgets to directly elected mayors. This can't be done without a cadre of passionate businesses and organisations, who all believe strongly in the economic potential of the North.
The Northern Powerhouse Partners Programme is a government initiative run by the Ministry of Housing, Communities and Local Government to build a network of partners who all believe strongly in the economic potential of the North.

Cotton Court's involvement in the programme is a significant boost for the area, giving Central Lancashire a louder voice and representation in an exciting initiative to develop our region. With other local institutions such as the University of Central Lancashire, Marketing Lancashire and the North and Western Chamber of Commerce representing the area alongside Cotton Court, it can only be a good thing for the economy and businesses of Lancashire.
It is the role of partners to promote the strengths of the North and exciting developments in four key areas:
Connectivity and transport

Skills, science and innovation

Quality of life and culture

Devolution
Cotton Court's Managing Director Robert Binns says:
"We're delighted to partner with the Northern Powerhouse. We've been actively involved in the development of the economy of Central Lancashire for many years and feel this is the next natural step in our progression. The initiative is a great way to address the imbalance that has historically existed between the North and South. We look forward to working alongside other partners across the North of England and Wales to further develop our respective regions".
Northern Powerhouse Minister, Jake Berry MP, said:
"It's fantastic to be able to welcome Cotton Court Business Centre to the Northern Powerhouse Partners Programme. As a Preston based company who actively work to improve Lancashire's economy through engagement, they are well placed to help us shape the future of our region."
The news comes as Cotton Court prepare to announce a partnership with a number of business hubs across Lancashire and Greater Manchester. The partnership will allow the business centre users to access events and resources across all sites, as well as enable collaboration on projects and share information.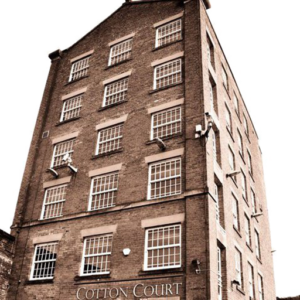 About Us
Cotton Court Business Centre is a hub for enterprise and business in Central Lancashire. Located in the heart of Preston City Centre, the renovated 19th century mill provides services to over 150 businesses and organisations. From local start-ups to government agencies, Cotton Court provides a plethora of professional services including conference and meeting space, serviced offices, call handling, registered business addresses and much more.
In addition to the business centre namesake, The Cotton Court group of companies also includes leisure, property, tech and community interest offerings to its portfolio; with an emphasis on providing positive impact to local economy and communities.