Last week our Managing Director Robert Binns flew out to Ibiza, but probably not for the reason you're thinking.
Whilst still managing a little bit of downtime to enjoy the hedonistic delights the island has to offer, Robert was there to attend a lecture by the world renowned chef Ferran Adrià on creative thinking, run in conjunction with Estrella Damn.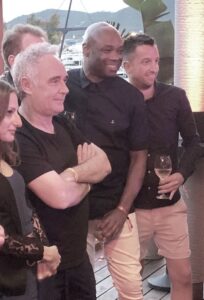 Considered by many as the world's best chef, Ferran is no stranger to thinking outside the box. Best known for his outlandish creations and deconstruction of dishes, he's turned his attention to helping others understand his creative methodology.
Known as 'Sapiens', the methodology and accompanying lectures aim to give a more complete and comprehensive view of the creative processes he has applied to gastronomy. The aim is to understand that something might seem simple at first sight, but can be improved if we use our creative capacity to the maximum. Whilst food may be his example, the process can be applied to whatever your passion or profession may be.
The invite only event featured an international audience, all looking to expand their capacity for creative thinking. We're all looking forward to hearing the key takeaways (pun intended) that Robert got from the lecture in our next team meeting.