Guest blog by one of our clients:  Samera from Breathe Therapies
I am so delighted to announce that our very own hardworking Shelley Perry is an Eva Award finalist!! A well recognised event that stands for Enterprise Vision Award set up to celebrate entrepreneurial growth of women in the North West.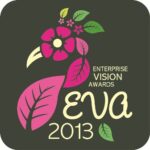 It is touching to see the category for which she is placed under of 'Inspirational Woman of the year' as it is a title she truly deserves.
Now, the votes are open and I am eager to spread the joy.
Please tell everyone you know to get the word out by following the links below to place your vote with a few quick and easy clicks:
http://www.evavoting.co.uk/vote.php?this_category=Inspirational
But the awards don't stop there for us at Breathe Eating Disorder Service as we have also been lucky enough to be nominated for Holistic Business of the year award 2013, by the Holistic Directory who want to celebrate wonderful holistic businesses in the UK and the people that run them, so have launched an Award this year.
It's absolutely fabulous to receive an acknowledgment and appreciation of the work we deliver within the community and to take this opportunity to thank the hard efforts and commitment shown daily by our clinical director Shelley Perry who is full of compassion and an inspiration to be around!!
You can place your vote by following the link below:
https://www.theholisticdirectory.co.uk/about/holistic-business-of-the-year-award-2013
But Hurry, because the deadline closes on the 1st September and the winner will be announced on the 17th September, wish us luck and stay posted to find out the results!!
Your vote counts: Every vote is important to us and we thank you very much for all your support and votes in advance!!  We greatly appreciate it.
So please help us by voting for both of the awards listed and stay posted to find out what happens!!