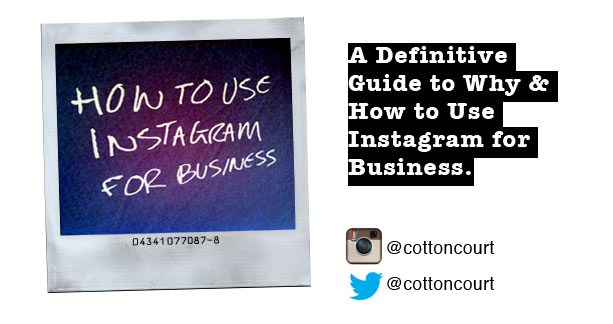 There's business to be won, customers to acquire, loyalty to create and fun to be had using Instagram for business. Even if you sell insurance, you're in recruitment or you sell nuts and bolts – don't count this channel out just yet.
Whilst your competitors are still headlong in the social media 'big four' (Facebook, Twitter, Google+ and LinkedIn), you could be stealing market share with less popular or mainstream channels. In fact, many businesses could do very well looking for niche channels that they can dominate instead of being an also-ran on mainstream channels that are becoming more and more saturated with competitors.
Most of us know social media is here to stay and whether we like it or not it's part of our every day business just as much as a telephone, computer or a website is vital to our business.
This means that, on the whole, just being 'in' social media is no longer good enough, you've got to be winning and you've got to have a smart approach to your digital communications these days if you want to make it all worth while.
As an agency, we're working harder than ever to provide insight into how people can get a strategic edge from their social media activities and one way to add value is to start looking for new channels and applications to tap into as well as plugging away with the 'big four'.
One such channel that's still very much overlooked in my opinion in Instagram (it wasn't overlooked by Facebook, mind you, who paid $1bn for the service so there's some pretty clever guys in Silicon Valley who agree with me).
What Instagram loses to the big four in overall user engagement numbers, it more than makes up for with loyalty and a sense of community that tends to only exist on the less popular channels. It seems bizarre to intimate that Instagram has a small usership – 40 million users worldwide isn't too shabby and there's more than enough to justify looking for your slice of the action.
With so much going on, however, and so much more you'd like to be doing with the big four, why would you consider introducing another channel into the mix, let alone a mobile photosharing application? I can almost hear you asking out loud: 'How am I supposed to use a photography app to generate more sales for my business?'
I'm confident that Instagram can hold your attention when it comes to direct business reasons to engage. One of the biggest and quickest indicators worth noting is that there are already plenty of well-known brands using Instragram to raise more brand awareness and loyalty.
Top 5 Brands Using Instagram:

Why use Instragram for Business?
It's much easier to explain or communicate with visuals – a picture paints a thousand words!
People share photos up to 12x more than they share comments and text.
Instragram integrates with Twitter and Facebook seamlessly. 300 million Instagram photos land on Facebook each day.
It's still in its infancy – getting in now will stand you in good stead for the future (it's currently growing at a rate of one user per second with over 400 million users in total)
Instagram is growing four times faster than LinkedIn
A photo on Instagram could easily be seen by more people than an advert on a Time Square billboard in the same period of time
Still not convinced?
12 Tangible Ways Instagram Can Add Value To Any Service industry / B2B Business
Giving people a 'behind the scenes' insight into your business and your team can help to add credibility, trust and likability to your brand. We link our Instagram photos to a gallery at the bottom of our homepage Ph-Creative.com
Instragram can be a powerful visual way to provide real-time customer service to show 'how-to'
Instagram can be used to keep in touch with customers and show you care – send a picture of something useful to somebody else or evidence that you're thinking about them
You can use Instagram to promote and engage with events in real-time and provide a legacy of content afterwards
You can search instragram to find journalists and bloggers who could contribute to your blog or include you in coverage elsewhere
Using Instagram as a visual diary of projects can provide a great visual way to record and creatively present case studies of work that stand out and get attention
Instagram can be your virtual scrap book to record inspiration, projects, ideas and reminders
Photographing projects and products can provide specific visibility with prospects interested in the same subject matter in real-time
Including location data can lead to exposure to other users close by –  this can open doors when it comes to being found by new prospects and peers, and build supplier relationships
Instagram can be searched  (using the hashtags and user names) to find relevant prospects, peers and suppliers
You can use Instragram as a quick, real-time means of keeping up with latest developments in technology and/or competitors
Competitions can be run on Instagram and can leverage activity to provide visibility in other social channels
12 Tangible Ways Instagram Could Add Value To Any Sales/Consumer Business
Feature your products and generate more visibility for your entire inventory
Push new products to raise immediate awareness.
Like and follow complementary brands that sell other popular related products
Run competitions for the most popular photo of a product (encourages sharing to get the most Likes)
Run competitions to find new products to feature –  ask your community to suggest new ideas
Ask for feedback and use it to improve products and handle returns and customer satisfaction
Link your Instagram photos to Pinterest and harness the growing power in that channel
Release sneak peeks of new product lines to create hype or interest pre-sale
Use Instagram to develop a strong brand personality and association with other brands
Generate outreach opportunities with industry journalists
Publically reward loyal customers with unexpected gifts or acknowledgments
Create hype surrounding 'Instragram only' sales offers
When should I be posting pictures and engaging on Instagram?
When you see something of particular interest
When you see something of particular relevance to you or your audience
When you're at an event
When you get the most engagement – experiment with when a photo gets the most attention and record when your photos are most likely to be seen based on this live feedback
How can I stand out on Instagram?
Try to be original – don't post the obvious version of the shot, look for a better angle, an unusual side or perspective.
Use the standard filters to make an average photo look great.
Use the soft focus feature to exentuate aspects or blur out parts of the photo
Crop the photo well remove unwanted clutter or distractions from the main focal point.
Try using some other apps to take photos and process you photos for added effects first. I recommend Camera+, Photoshop Express, & Gridlens

Who should I be looking to interact with on Instagram?
Peers
Prospects
Journalists/press
Bloggers
Competitors
Customers
Customers' friends
Industry experts
Neighbours (local business community)
Team members
Relevant brands
Relevant Twitter influencers
Relevant associations, governing bodies & awards committees
How do I find people to engage with on Instagram?
Search through followers of a relevant users and follow them / like their photos
Search friends of a relevant user and follow them / like their photos
Search for keywords by relevant user and by relevant photo, follow them and analyse/note what tags they use analyse who's following them – follow the interesting and influential ones
How do I Engage with a relevant community on Instagram?
Like some of their photos
Leave relevant, positive comments using the right tags
Mention other users in comments
If people comment on your comment, keep the conversation going by commenting again!
Tweet other people's photos and share them on Facebook etc
How should you comment on yours and other peoples' Instagram photos?
Be nice. Compliments go a long way
Be sincere, make an observation that's true and interesting
Be thoughtful either by suggesting something similar in content or style
Be humorous, there's nothing wrong with making people laugh (in good taste!)
Be real, don't just comment because it's part of a strategy, comment because you mean it and have something useful to say – you should only be focussing on things you like or know a lot about and so put that to the test and use what you know etc.
Be quick. The more real-time you are the more notice people will take of you and the more people you'll reach because it's current and people are looking at it now.
Be smart. Use the right language and include useful tags that you know are used by the user or other relevant users
Find us on instagram: CottonCourt